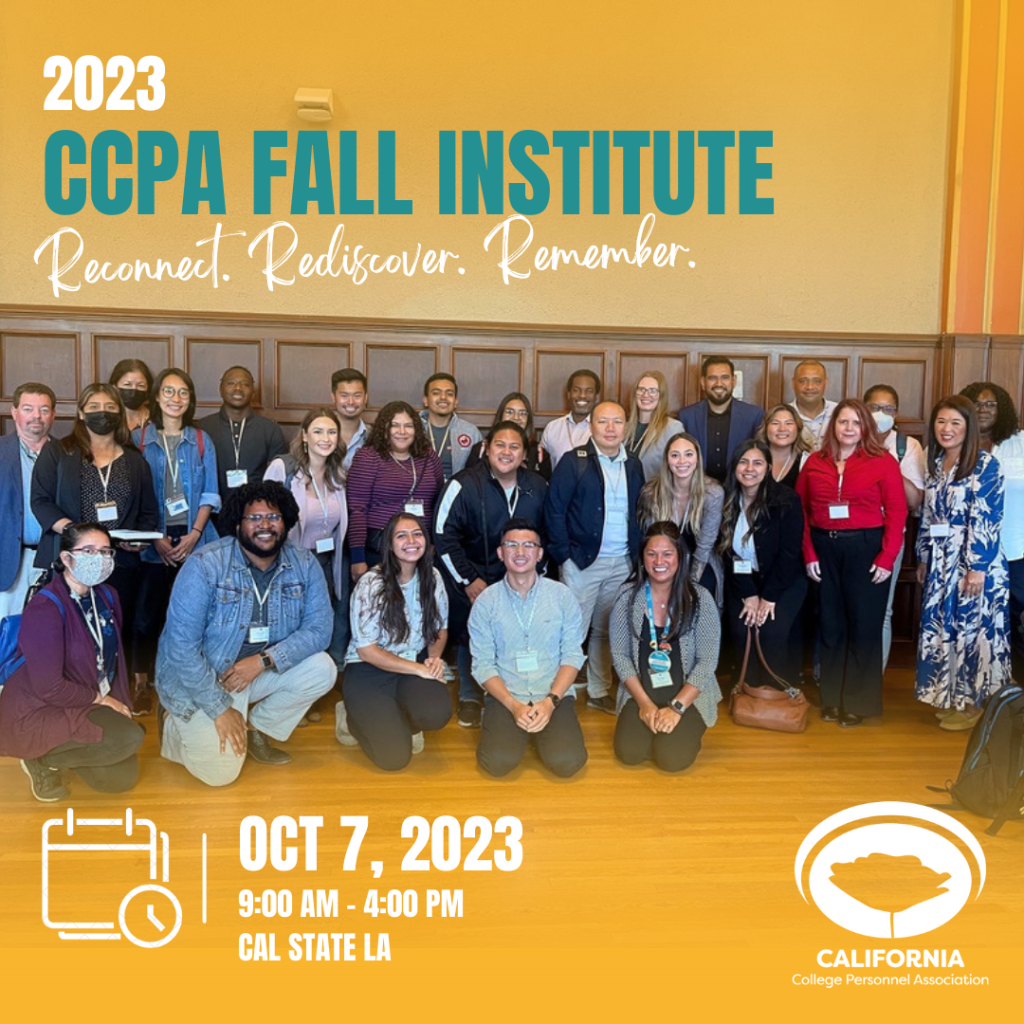 ---
WHEN
Saturday, October 7, 2023
9:00 am to 4:00 pm
WHERE
California State University, Los Angeles
5151 State University Dr, Los Angeles, CA 90032
CCPA is committed to an Institute centering attendees' experiences, focusing on skill and knowledge development, and advancing our collective work towards racial justice and decolonization. The CCPA Institute experience will provide an intentional space focused on wellness, with opportunities to connect, build, create and grow. 
---
Attendees participating in the 2023 CCPA Institute will:
Reconnect
Gain knowledge, skills, awareness and behaviors from colleagues on the importance of inclusion in higher education organization and setting
Learn and understand how inclusive practices inform the practice(s) of a Student Affairs professional
Rediscover
Obtain new tools, resources and connections to renew student affairs professionals excitement for working in this field
Articulate the correlation between having personal support and professional excellence.
Remember
Evaluate the role of education in their practices as a Student Affairs professional.
Discover self-care and mental health resources
---
Schedule Overview
8:30 AM – Check-In
9:00 AM – Welcome, Introductions & Land Acknowledgement
9:30 AM – Keynote
10:30 AM – Session 1 (Concurrent Sessions)
11:30 AM – Session 2 (Concurrent Sessions)
12:30 PM – Lunch
1:30 PM – Session 3 (Concurrent Sessions)
2:30 PM – Round Table Discussions (Concurrent Session)
3:30 PM – Leadership Panel 
4:30 PM – Closing
5:00 PM – Optional Happy Hour (Location TBD)
---
Schedule Details
Institute Check-in
Check-in for the Fall Institute begins at 8:30 a.m. on the GE Patio outside the Golden Eagle Ballrooms, on the 3rd floor.
Attire
Come as you are. Dress comfortably. Masks are strongly recommended, but not required, indoors — regardless of COVID-19 vaccination status. Outdoors, masks are optional for everyone.
Lunch
Lunch is included with your registration, and will be served in the Golden Eagle Ballroom by Cal State LA's on-campus catering. The meal selection will include chicken, vegetarian, and vegan options. Accommodations for other dietary restrictions are limited. You can view the additional dining options on campus here.
---
Arrival Information
The CCPA Fall 2023 Institute will take place at:
California State University, Los Angeles (Cal State LA) in the Golden Eagle Ballroom, 3rd Floor, Golden Eagle Building at 5151 State University Drive, Los Angeles, CA 90032
Airport / Driving
From Long Beach Airport

From Fresno
Hotel Information
Monterey Park CA Hotel Rooms | Courtyard Los Angeles Monterey Park (marriott.com)*
*Please note the CCPA is not setting up a block but rather this is the recommended hotel as it is the closest to the institute venue (5-7 min drive)
Public Transportation
Cal State LA has a transit center on campus where multiple local bus lines pick up and drop off. There is also a Metro Link train stop located on the campus. You can visit Metro Trip Planner to view options on arriving on the campus.
Parking
If you are driving to campus, Parking Structure C is the nearest lot. Daily permits for visitors are $10, and can be purchased using the PayByPhone app. Go to the Visitor Parking website for details on purchasing a daily parking permit.
Ridesharing
Planning to get to Cal State LA in Uber or Lyft?
Visitors can be dropped off at our Uber/Lyft drop-off locations located at the Transit Center and the University Student Union. (Refer to Parking Map for locations)